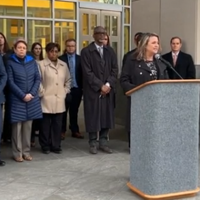 Fair Funding Lawsuit Petitioners Hold Press Conference After Closing Arguments | News
JOHNSTOWN, Pa. — Following the conclusion of closing arguments in the state's Fair School Funding lawsuit on Thursday, Greater Johnstown School District Superintendent Amy Arcurio stood in the plaza outside the Pennsylvania Judicial Center in Harrisburg and challenged Commonwealth leaders to believe in the state's students the same way she does.
The district leader, who represents one of several low-wealth school systems in Pennsylvania, spoke at a press conference held immediately after the court's dismissal.
"No matter what challenges our students face, I know they can graduate and be ready for college and careers if we are able to provide them with the support and resources they need," said said Arcurio. "It is our moral duty as public school educators to do this for every child who walks through our doors.
"But I'm here today because our leaders in Harrisburg have created a school fundraising Hunger Games that prevents low-income districts from providing that support for their children."
The press conference was streamed live on the Fund Our Schools PA Facebook page.
Greater Johnstown is one of six original plaintiff districts, a group of 150 rural and small schools, the state's NAACP, and Commonwealth parents and students, who filed suit against the Pennsylvania legislature, the governor and others in 2014.
It took until November for the case, which claims the state's school funding system is unconstitutional, to go to court, and Thursday's conclusion is the culmination of 48 days of testimony on the issue. .
Closing arguments on both sides began at 9 a.m. and continued after 5:30 p.m.
Throughout Arcurio's speech that followed, she recapped the shortcomings and setbacks that Greater Johnstown faces, including cramped school buildings and severe staffing shortages.
"I know our students are falling behind," she said.
Arcurio added that there are "hundreds of thousands of students" in the state "who are missing what they need to reach their potential because they live in disadvantaged neighborhoods," like Greater Johnstown.
"Testimony has established that schoolchildren in this Commonwealth are deeply harmed by decades of underfunding, a lack of basic school resources and unconscionable inequalities," said Education Law Center PA legal director Maura McInerney. .
This firm was legal counsel in the case, representing the petitioners alongside the Public Interest Law Center.
During McInerney's time on the podium, she recounted several points from the testimony, including the higher tax rate of low-wealth districts compared to her wealthy peers and the fair funding formula, which is "a fraction of state education aid.
She also said that black and brown students are "disproportionately harmed by this two-tier system."
"The impact on the General Assembly's failure to fulfill its duties is profound and has long-term consequences," McInerney said.
Students in underfunded districts are more likely to be unemployed, lack stable housing and remain in a cycle of poverty, she said.
The presentation ended with comments from Dan Urevick-Ackelsberg, an attorney with the Public Interest Law Center.
"At bottom, the solution the Commonwealth needs is a simple system where a child's needs are assessed and a child's needs are met," he said.
Although closing arguments were completed on Thursday, a decision by Commonwealth Court Judge Renee Cohn Jubelirer, who presided over the trial, is not expected until well before the summer months.
According to a court schedule, final argument will be set sometime after July 6, which is the last writ filing date for the plaintiffs.
Closing Thursday, Cohn Jubelirer thanked participants on both sides for their professionalism and hard work during the trial.
"It has been a great privilege to preside over this matter," she said.