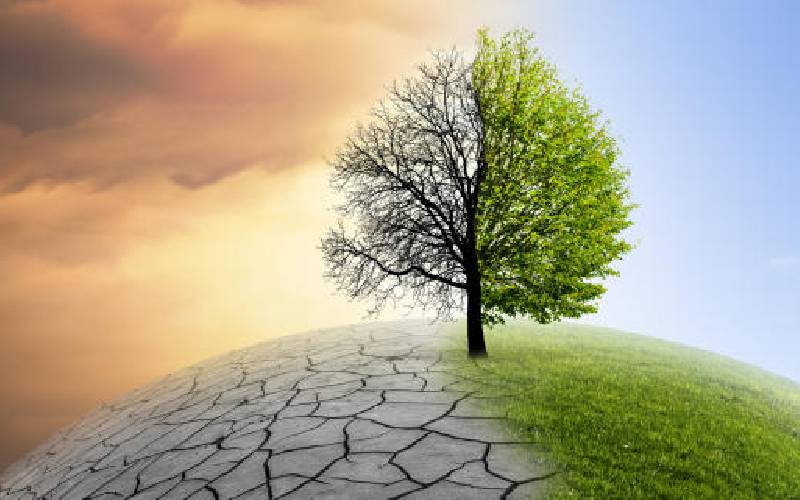 How local communities can tackle the climate crisis
According to the 2022 Global Risks Report published by the World Economic Forum, failure of climate action, extreme weather events and loss of biodiversity were considered among the top three risks facing the global community.
Extreme weather is increasingly disrupting developing and developed economies alike, as climate change does not respect national borders.
The adverse effects of climate change on food, health and human security will increase the potential risk to social, economic, environmental and political stability.
President Uhuru Kenyatta's economic legacy model, the big four agenda, deeply attuned to food security, universal health care (UHC), affordable housing and industrial development, should be integrated into action against the climate change.
This is due to the unpredictable change in weather patterns which have increasingly fueled food insecurity.
The President's commitment to addressing climate change reinforces his evidence-based efforts to meet the social, economic, environmental and developmental needs of millions of Kenyans.
The fundamental principle of economic strength as an element and instrument of national power adapted to the economic principles focused on achieving the big four agenda must promote rapid transformation to restore the forest ecosystem and environmental conservation.
This will mitigate and enable local communities to adapt to the impacts of climate change.
Kenya has made tremendous rapid progress in addressing climate change by investing in green economy and sustainable growth.
Even though Kenya remains an economic powerhouse in sub-Saharan Africa with its long-term strategic competition to shape the global balance of power in the fight against climate change, strategic and more holistic approaches are essential.
We must prioritize integrating the knowledge of Indigenous communities with modern science to predict, forecast and provide a roadmap on climate change mitigation and adaptation.
Even as the global community grapples with the deadly and unprecedented climate catastrophe, Kenya should develop a well-structured risk-based investment strategy to comprehensively identify and address extreme weather conditions.
This will help mitigate unpredictable disasters that often result in the loss of lives and livelihoods.
The government should quickly develop climate mitigation and adaptation solutions that Indigenous communities can adapt. This will support sustainable agriculture and enhance food security for millions of people facing drought from time to time.
It is imperative to address the short and long term effects of climate change given the enormous importance of local communities.
The government needs to build their resilience, where the strategic direction should also focus on drastically reducing forest degradation and adopting green and renewable energy.
The current climate-related economic downturn globally should prompt community leaders to collectively take responsibility for tackling climate change.
The author is a youth community leader.