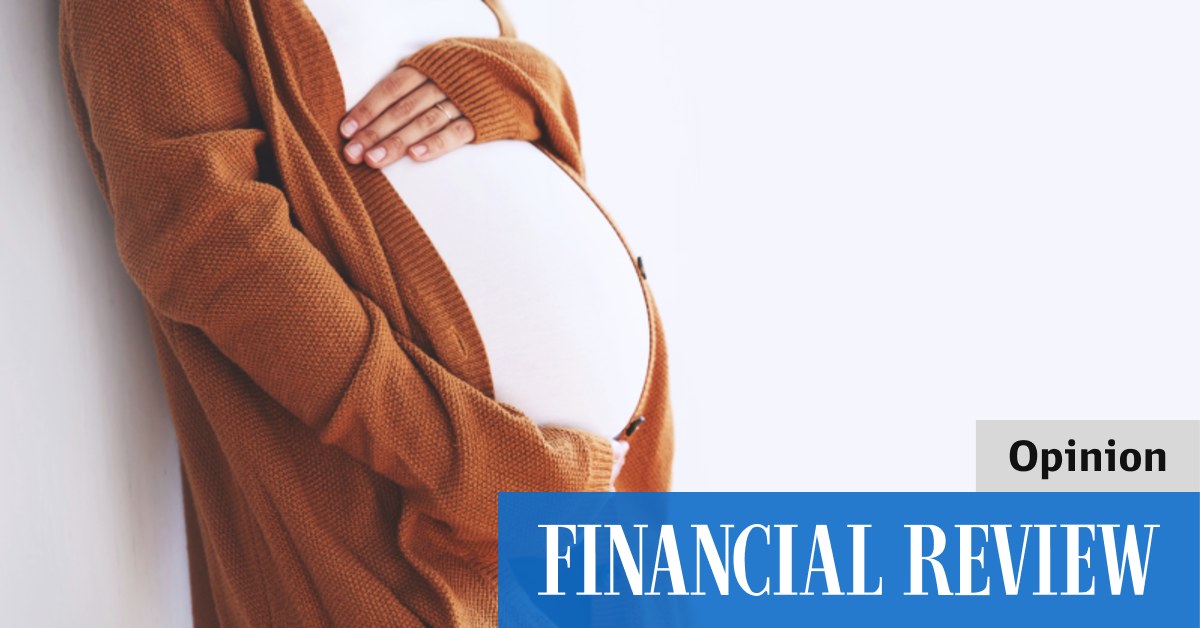 How to solve our fertility crisis
Since the turn of the century, Australia has not performed well on productivity issues and there is no comprehensive plan to overcome it. If productivity were to remain the slow horse in the prosperity stakes, the entire race would have to be driven by labor force participation.
But here, too, Australia's prospects are poor.
There is compelling evidence that many women decide to have fewer babies because of the costs and penalties they face in raising their families.
Last month's birth and fertility data reveal that on average Australian women were having 1.58 babies each in 2020, the lowest rate on record. And remember, this drop in fertility is based on decisions couples made the year before the pandemic hit.
To put this figure into perspective, the fertility rate needed to replace the mother and her partner is 2.1 babies per woman. We are well below replacement level and well below peak fertility of 3.5 babies per woman in the early 1960s and 2.0 babies in the late 2000s.
Without immigration, Australia's population will decline.
This long-term decline in the fertility rate and the associated increase in the age dependency ratio attest to the wisdom of the Keating government's mandatory retirement system. Without it, Australian workers would face a crippling tax burden to fund the old-age pension of retirees who were unable or unwilling to support their retirement from their own savings.
And these retirees, being such a large cohort of Australia's voting population – more than a quarter by 2060 – would successfully demand a much higher pension age.
If the precipitous drop in fertility was purely a matter of lifestyle choices, with women less inclined to stay home to bear and raise children, then in a free society it would be a matter for them and their partners. But there is compelling evidence that many women decide to have fewer babies because of the costs and penalties they face raising their families.
When a mother returns to work after giving birth, she faces four financial penalties: personal income tax; a reduction in family allowances and child care allowances; and childcare costs payable by you.
When these four costs are factored in, mothers can lose 75¢ of every extra dollar they earn, or all of it, or even shrink their household budget.
The wealthiest often complain of losing $0.47 for every additional dollar they earn above $180,000 per year. Yet mothers working up and down the income scale can lose more than double that amount.
In Labor leader Anthony Albanese's 2020 budget response, he announced a fundamental overhaul of the childcare subsidy to give women a lot more incentive to work longer hours after having babies.
In response, the Morrison government made some changes to the childcare subsidy in its 2021 budget, which were largely reserved for mothers with two or more children under the age of six in care.
Analysis by the Parliamentary Budget Office found that 86% of families are better off with Labor reform and a further 6% with bipartisan policies.
In addition to lifting the second P – participation – a government policy that reduces labor force disincentives for women can increase the third P – productivity.
Australia's tax and income support system sends mixed signals to women. It encourages them to pursue higher education by subsidizing its cost, but then penalizes them much more heavily than men for seeking a career in the paid labor force.
In 2020, 72% of women in the 25-29 age group had obtained a higher education diploma at Certificate III level or higher, significantly higher than 65% of men in this age group. More than 58% of university students are women, many more than men. Yet the system then discriminates against women trying to advance in the labor market.
We should encourage these highly productive women to participate in the workforce, not penalize them.
Late last year, at a Melbourne economic forum supported by The Australian Financial analysis, leading economists have urged the federal government to spend more on child care and early childhood education to boost women's participation and economic growth.
If we really wanted to increase women's labor force participation and national productivity, we would move over time to universally available child care while adding four policies:
Increase the duration of paid Commonwealth parental leave from 18 to 24 weeks.
Allow couples – not Parliament – ​​to decide how long the leave mother and father will take.
Include Retirement Guarantee in Commonwealth Paid Parental Leave.
Legalize higher employer pension contributions for women if employers want to recognize the time women spend out of the workforce having babies.
Some will complain that these proposals are too expensive. Yet KPMG and the Grattan Institute's analysis of child care reforms confirms that they would more than pay for themselves. The same would probably be true for the other four reform proposals.
A universal childcare subsidy and further reforms to paid parental leave and pension plans for women would be good for women, good for families and good for the economy.