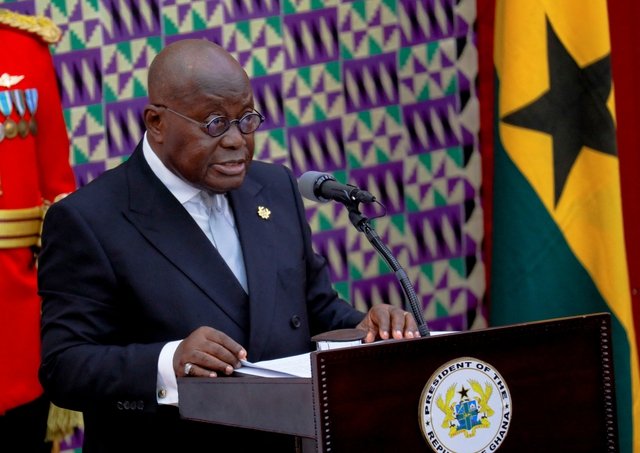 Increase in press freedom violations: Journalists attacked, detained, prosecuted – CIVICUS
Ghana is experiencing a worrying upsurge in press freedom violations via @RSF_inter https://t.co/q8ZiTSY5M9

— The Washington Post Press Freedom Partnership (@wppressfreedom) February 16, 2022
Expression
Journalists arrested, prosecuted
On February 8, 2022, an Accra High Court sentenced radio journalist Oheneba Boamah Bennie to 14 days in prison and fined 3,000 Ghana cedi (approximately US$395) for contempt of court. The indictment relates to a video posted on Facebook in which the Power FM host and commentator claims President Nana Akufo-Addo met with Supreme Court justices ahead of their ruling on an election petition from the opposition National Democratic party. Congress (NDC), who were challenging the December 2020 election results. He was arrested on December 14, 2020 by Criminal Investigation Department (CID) officers and detained for two days in connection with the Facebook post and charged with insulting and threatening President Nana Akufo-Addo. The judge reportedly refused a request by Bennie to replace the prison sentence with an additional fine due to his poor health.
On February 10, 2022, Kwabena Bobbie Ansah, radio host for Accra FM, was arrested for posting false news and offensive behavior in relation to a video he allegedly posted on social media where he claimed that the first and second ladies of Ghana, Mrs. Rebecca Akufo-Addo and Mrs. Samira Bawumia, fraudulently appropriated state land for the Rebecca Foundation, a non-profit organization. The police further accuse the radio host of not having honored several invitations to assist the police in the investigation, which the radio host denies. Ansah was later released on bail of 50,000 cedis (approximately US$5,600).
On February 25, 2022, National Security agents arrested freelance journalist Sacut Amenga-Etego on charges of "illegally" filming them and arrested suspects at the High Court premises. The court ordered the journalist's detention for a period of two weeks because the judge considered that the journalist posed a threat to the security "of the judicial complex or the entire nation". On March 1, 2022, the journalist was released but he was immediately arrested again. on allegations of corruption.
Gunmen attack #Ghana broadcaster Radio Ada FM on mining deal coverage

Ghanaian authorities should quickly identify and hold accountable those behind the recent attack on broadcaster Radio Ada FM – @freedom of the press https://t.co/qdnOYBpaZC

— CPJ Africa (@CPJAfrica) January 31, 2022
A radio attacked, vandalized, journalists attacked
On January 13, 2022, ten unidentified armed individuals in masks broke into and vandalized the offices of Radio Ada FM, a private radio station in Ada district in the Greater Accra region. According to the Committee to Protect Journalists (CPJ), assailants threatened and attacked radio staff: radio host Korle Adjaotor Sorngortse was beaten and kicked all over his body for 10 minutes, the receptionist was pushed around and Gideon Amanor Dzeagu, the producer, was forced to kneel down. Journalist for Radio Ada FM, Julius Odoi told the Media Foundation for West Africa (MFWA) that the men ordered Gabriel Korley Adjaotor, who was presenting a music program at the time, to stop broadcasting. 'issue. The men further threatened to return if Radio Ada FM did not stop reporting on a recently awarded salt mining contract. The radio station reportedly said the mining contract, awarded to Electrochem, would require people to be relocated. Two organizers of a demonstration against the mining contract, scheduled for that day, were present at the station during the attack. One of them was assaulted by the attackers. Two computers for recording, a mixer and headphones were destroyed in the attack. Following the attack, the radio station was shut down for a few days.
MFWA calls on Ghana's Defense Minister to investigate brutal assault on investigative journalisthttps://t.co/uEPba1oyNK

— Media Foundation for West Africa (@TheMFWA) March 17, 2022
Journalists attacked
On March 11, 2022, two soldiers repeatedly beat investigative journalist Michael Aidoo, a member of the MFWA's Next Generation Investigative Journalism Fellowship, at the Afari Military Hospital project site. in the Ashanti region. After noticing that Aidoo was taking photos of the local offices of the New Patriotic Party (NPP), the ruling political party of President Nana Akufo-Addo, a soldier identified as Opoku asked for the reporter's phone and password and started beating Aidoo when he initially refused. . After giving in to the soldier, the latter deleted videos and photos that the journalist had taken from the site. He was then beaten by Opoku and another soldier after identifying himself as an investigative reporter, and was forced to do push-ups with a cement block at the waist. The MFWA has asked the Minister of Defense to demand an investigation into the attack.
A month before Aidoo's assault, on February 3, 2022, Connect FM broadcaster Eric Nana Gyetuah was assaulted by police officers in Takoradi, Western Region. Reports said a group of at least five plainclothes police attacked Gyetuah after they noticed him filming the police at a restaurant, who brought handcuffed arrestees to the restaurant. The beatings began when the journalist refused to hand over his phone. Gyetuah was then handcuffed and taken to a police station where he was held for several hours on charges of illegally taking photos and disturbing public order before being released on bail. According to dispatches, the journalist's eardrum was perforated during the attack. In a statement, the Ghana Journalists Association (GJA) commented:
"The GJA finds it hard to accept reports of police officers who renounced the use of reason and abandoned their code of conduct to brutally assault Eric Nana Gyetuah, FM producer in Takoradi for filming them in a public place ."
The charges against the journalist were later reportedly dropped while Inspector General of Police George Akuffo Dampare promised that an investigation into the incident would be opened.
Association
#FixTheCountry organizer detained, prosecuted
On February 11, 2022, security guards arrested Oliver Barker-Vormawor, an activist and organizer of #FixTheCountry protests, at Kotoka International Airport on his return to Ghana from the UK. He was later charged with treason for comments he made on social media saying he would stage a coup if the National Assembly passed the controversial online tax law. The Electronic Transfers Act or Electronic Direct Debit Tax introduces a 1.5% tax on electronic transfers over 100 cedis (approximately US$13), which includes mobile money transfers, and was passed by the National Assembly on March 29, 2022.
After spending 33 days in police custody, the Tema High Court granted Barker-Vormawor bail of 2 million cedis (approximately US$262,600). Bail conditions include handing over his passport and reporting to police weekly.
Anti-corruption civil society activist detained
The executive director of the CSO Anti-Corruption Alliance for Social Equity and Public Accountability (ASEPA), Mensah Thompson, was arrested on February 9, 2022 and charged with publishing false news. The detention follows a complaint by the armed forces about a Facebook post in which Thompson claimed the president and his family used the presidential plane to shop in the UK. Thompson reportedly retracted his statements and issued a public apology. He was arrested the following day, February 10, 2022, and granted bail of 50,000 cedis (about $6,500).