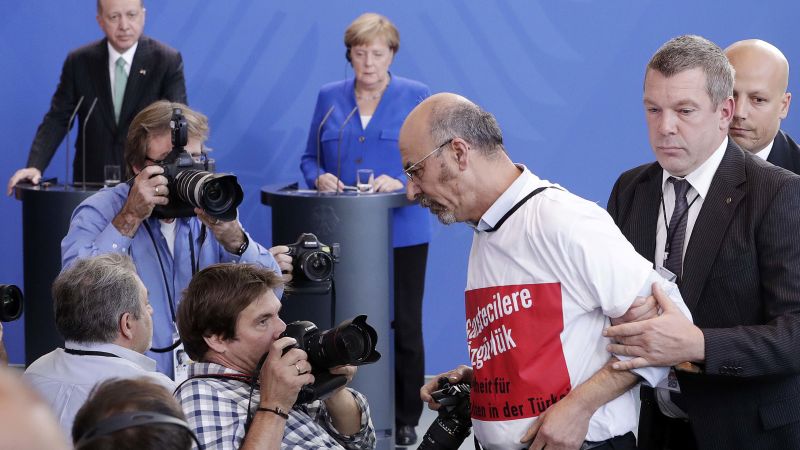 Journalist calling for press freedom barred from press conference

Berlin
CNN
—

A man calling for press freedom and the release of journalists detained in Turkey was kicked out by security from a news conference between Turkish President Recep Tayyip Erdogan and German Chancellor Angela Merkel in Berlin on Friday.
He was later identified as Turkish journalist and general secretary of the European Association of Turkish Journalists Adil Yigit, who lives in Germany and is a staunch critic of Erdogan.
The press conference, held on the second day of a controversial state visit by the Turkish leader, was well underway when Yigit, sitting in one of the front rows with a camera, was dragged out of the room by two men, revealing a T-shirt with the words "freedom of journalists" and "freedom of the press for journalists in Turkey".
Dozens of journalists, including foreign reporters, have been imprisoned without trial in Turkey on terrorism charges since a failed coup attempt in 2016, according to reports. Turkey is ranked 157th out of 180 countries in the 2018 World Press Freedom Index.
In pictures of Friday's incident published by Juergen Kloeckner, parliamentary correspondent for the Huffington Post in Germany, Yigit can be heard saying in German: "I didn't do anything. What's wrong?"
Shortly after, German government spokesman Steffen Seibert defended the decision to remove Yigit.
Irrespective of "whether this is a legitimate concern or not", the government does not tolerate any demonstrations of a political nature during press conferences held at the German Chancellery or Parliament, he said. on Twitter.
RELATED: Opinion – Erdogan will live to regret attacking Germany
Yigit's protest was not the first incident to disrupt Erdogan's visit to Germany, which began on Thursday.
Rumors swirled on Friday morning that Erdogan was threatening to boycott the press conference if Can Dundar, former editor of the Cumhuriyet newspaper, a Turkish outlet critical of Erdogan, were to attend as planned.
In a statementDundar later confirmed the rumors and announced his decision not to attend, fearing his presence could trigger a "diplomatic crisis".
In 2016, Dundar was found guilty by a Turkish court of obtaining and revealing state secrets. He was sentenced to almost six years in prison, but left Turkey for Germany, where he now works as a journalist.
Responding to a reporter's question about Dundar at the press conference, Merkel confirmed that Dundar had received accreditation for the event and had made the decision not to attend "alone".
"I can confirm that there are different opinions on him and his case between the Turkish president and me," Merkel added.
This difference of opinion was made clear by Erdogan, who described Dundar as an "agent who leaked state secrets to the public" and "who should be in jail". He criticized Germany's decision not to extradite Dundar, saying: "There is no excuse. I would definitely hand over such an individual.
Erdogan also used Friday's press conference to ask the German authorities to extradite all members of the Kurdish PKK and the Gulen movement – both considered terrorist organizations by Turkey – currently in Germany. For her part, Merkel called on Turkey to quickly resolve the cases of five German citizens currently detained in the country on political charges.
The German Chancellor also clarified that while the two countries had come closer on certain issues, the relationship "has experienced deep differences which still exist today", adding that these were mainly linked to "matters of state rights (and) freedom of the media".
Many Germans are unhappy with the official visit of Erdogan, who was greeted by German President Frank-Walter Steinmeier and greeted with military honors on Friday morning, and was due to attend a state banquet on Friday evening.
Relations between the countries, which are traditionally strong allies, have deteriorated in recent years, in part due to Erdogan's harsh crackdown on opponents following the 2016 coup attempt and the imprisonment of a number of German citizens for political reasons.
Diplomatic relations have improved in recent months, but have not yet normalized and many Germans are angry at the decision to grant Erdogan a state visit.
Discontent surfaced as soon as Erdogan arrived in the country. Landing at Berlin-Tegel airport around noon on Thursday, the Turkish president was greeted by supporters of the German branch of Reporters Without Borders, holding up signs calling for press freedom in Turkey and accompanied by a van displaying the message "Mr. Erdogan lands in Berlin, journalists land in jail.
On Friday, hundreds of protesters gathered in Berlin, holding signs calling for "an end to German support for Erdogan" and urging the Turkish people to "reject this would-be dictator", in reference to the Turkish president.