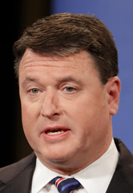 Rokita Reaches Resolution With Political Expert Over Access At Press Conference – Indianapolis Business Journal
Indiana Attorney General Todd Rokita and political pundit Abdul-Hakim Shabazz ended their public battle that began at a robocall news conference with a one-page motion to voluntarily dismiss the trial and pay their own legal fees.
The stipulation to dismiss was filed on Monday, just four business days after Rokita filed a response in support of its motion to dismiss for lack of jurisdiction and motion for a stay.
According to the filing, the U.S. District Court for the Southern District of Indiana did not rule on any of the motions.
The joint stipulation motion states that the parties agree that Shabazz is "not excluded from future in-person press conferences" held by Rokita and will be "allowed admission in accordance with terms and conditions" placed on other media outlets.
Announcing the resolution, the American Civil Liberties Union of Indiana said the lawsuit was dismissed because Rokita agreed to treat Shabazz like other reporters.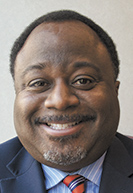 "A free press is the cornerstone of our democracy," said Ken Falk, legal director for the ACLU of Indiana. "It acts both as a check on government power and as a tool for the public to make informed decisions. That's why it's essential that journalists have the protections they need to keep the public informed.
Rokita's office also applauded the resolution, but reiterated that no one has the right to attend a press conference.
"We are pleased to have secured an early dismissal of the action, which saves taxpayers money and allows us to focus more on protecting Hoosier values ​​from post-session attacks. General Assembly that just ended," Kelly Stevenson, press secretary for the Indiana attorney general, said in an email. "There is no automatic right to attend press events in person simply because someone has a security badge, especially when the event is available to everyone – in real time – with the possibility to ask questions."
The dispute began when Shabazz was banned from attending a press conference in the fall of 2021 where Rokita spoke about robocalls. A key disagreement in the litigation was over whether Shabazz was barred from future press conferences.
In the response brief, Rokita said his office did not issue a blanket denial of access.
"Plaintiff faces no likelihood of future injury that would warrant federal jurisdiction to entertain his claim for relief, as he is not barred from attending as a reporter a future press conference hosted by the Office of the attorney general," he said.
In his complaint filed in February, Shabazz claimed that he had been excluded by Rokita from the attorney general's press conferences. Furthermore, he stated that he remained banned because Rokita and the office had not lifted the ban.
Rokita's office maintained that it is publicly available.
"Our office continues to be a leader in access, transparency and engagement with great Indiana people," Stevenson said in an email. "Stay tuned for future action from the office on these efforts."
After being barred from attending the press conference in person, Shabazz filed a public records request with the Indiana Attorney General's office. The status of his claim is unclear now that the lawsuit has reached a settlement.
Shabazz was looking for a comprehensive list of documents, including information on media credentials, approvals or denials of media requests, and interviews Rokita had given since being sworn in.
About a week after filing his lawsuit, Shabazz filed a complaint with the Indiana Public Access Advisor, claiming the Rokita violated the Public Records Access Act by failing to respond in a timely manner.
The bureau responded that its response time was reasonable given that state law requires that each document be manually reviewed to ensure compliance with APRA and Indiana's Rules of Professional Conduct. Additionally, the state's lead attorney claimed that Shabazz was using APRA as a surrogate for discovery in the lawsuit. As a result, the office concluded that it was not obligated to respond to the public records request.
In an opinion issued on March 22 — the same day Rokita filed his response to the motion to dismiss and motion to stay — public access adviser Luke Britt sided with Shabazz.
The adviser noted that federal litigation is not an exemption from disclosure under APRA. Additionally, Britt determined that the Indiana Attorney General's office would not have required "excessive time to review, preserve and produce" the documents and, therefore, the office had had "sufficient time " to answer the question.