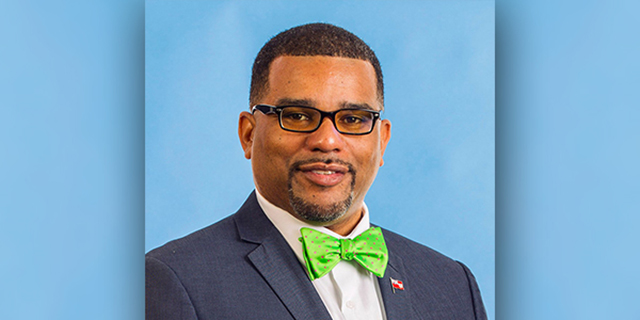 Video: Minister of Education Press Conference – Bermuda Covid-19 Coronavirus News
[Updated] National Education Minister Diallo Rabain holds a press conference at 4:15 p.m. this afternoon [Feb 16] to inform the public about back-to-school testing. We'll have additional coverage later and in the meantime, live video should start around 4:15 p.m.
Update February 17, 06:07: Remarks from Minister Rabain:
Good afternoon and welcome
I would like to use this time today to provide updates on some Covid-related school matters as we prepare to return to school on Monday.
back to school test
In accordance with our return to school policy established in October 2021, when students and staff are absent from school for 5 days or more, we require a certified negative antigen or PCR test as a prerequisite for teaching and learning in the classroom.
Some have questioned this policy. However, the Ministry and Department of Education have a responsibility to keep our students and teachers safe, with the ultimate goal of keeping schools open for classroom learning. Therefore, we must continue to adhere to the policy of certified antigen testing or PCR testing before returning to school.
When considering returning after the break for the BPSS, the Ministry of Education devised 3 options to return to school testing.
Option 1 was the same as we have always done and would have all students tested the weekend before returning on Monday February 21.
Option 2 featured a staggered start until the break returned with all kindergarten and primary school tests over the weekend for a start on February 21, college tests on Monday February 21 for a start on Tuesday February 22 February and secondary school tests on Tuesday. , February 22 for a start on Wednesday February 23.
Option 3 was to continue the antigen testing program to allow students to submit their results on Sunday evening and start school on Monday February 21.
At the EEMC meeting held on 4 February, after consultation with our union partners, BUT, BPSU and BIU, as well as representatives from MDL and Health, they recommended, and it was agreed at the unanimously, that option 2, a staggered return, would be the return to school procedure for Monday February 21.
I want to thank our stakeholders for their input into this decision, because I believe it all starts with a conversation. Our collaboration with the members of the EEMC resulted in a final decision on which all parties agreed. MDL has already established the testing schedule which has been distributed to all parents and guardians. Again, I want to express my gratitude to everyone who has come forward to ensure that we have a plan that would be in the best interest of our school's ecosystem.
Home Antigen Testing Program
Parents and guardians have asked why the use of the home antigen test was not used this time for the back-to-school test. As I said, this was a collective decision that was also based on current data regarding the antigen program and submissions from our stakeholders.
Due to the Omicron outbreak at the time and its effect on MDL testing capabilities, returning to school in January was difficult. Additionally, the weekly saliva screening that was currently in place for students had to be replaced with a home antigen screening program.
While the pilot program was still scheduled to launch in January with 10 schools, difficulties with the Omicron outbreak forced the program to be rolled out to all schools. Although this program was put together very quickly, extensive outreach to parents, guardians and staff took place via 6 zoom information sessions, tailored to parents and staff for each of our different grade levels.
Features of the Home Antigen Testing Program are:
It is not mandatory, but all students and staff are encouraged to participate.
Students and staff received a supply of free antigen tests which were generously donated to the Department of Education by ABIR, ABIC and BILTIR.
Acceptance of antigen testing indicated agreement to participate in the testing program.
The tests must be taken twice a week: once on Sunday evening and once on Wednesday evening.
Each test result must be communicated electronically using a link provided by the Ministry of Education.
Positive results should be immediately reported directly to the school and to the Department of Health by the parent of a Covid-positive student or Covid-positive staff member, not the Department of Education.
As we enter the mid-term break, the antigen screening data received and the process for receiving that data is being reviewed to determine the best way forward. This process will also allow us to improve the reception of data more efficiently. To date, I can report that participation is not at the level it was with the saliva screening program. With a participation rate of approx. 57% of all staff [50%] and students [59%] By submitting forms every two weeks, we need families who don't show up to keep everyone safe.
Starting with the return to school next week, here are some of the things we're working on:
All preschools and primary schools will revert to weekly saliva screening.
The current online antigen form is being redesigned and retooled to be more efficient and allow faster analysis of critical participation data.
Public relations campaigns around the need to participate and reminders to submit your results are being developed.
I would like to thank everyone who worked very hard to make this program operational in such a short time. While not perfect, it did a good job of doing what was intended, and going forward I'm sure we'll see a lot more turnout.
Revised school guidelines
One of the main talking points lately is the guidelines in place in our schools and if we see any movement from where we are now it is in phase 1. I have received many e -emails, WhatsApp and social media posts asking for the same. .
First, I would like to state that we are constantly seeking to strike the right balance in our approach to maintaining the safety of our staff and students; with the ultimate goal of keeping schools open for classroom learning. We may not always agree, and we may not even always get it right, but the decisions that are made are in the best interest of our students, our educators and the island as a whole. together. While decisions may be difficult, my intention and that of this government remains to provide a safe school experience for our students and staff.
As a parent and as a minister, I am excited about the ongoing discussions to consider what life with Covid can look like in our schools. We want our children to have an educational experience similar to what we expect of them. Things like sports days, graduations, field trips, assemblies, end of school celebrations, interscholastic sporting events, and school photography to name a few will return soon with revised guidelines. about wearing a mask.
We are also reviewing the current requirement for close contacts of positive students in quarantine. We are looking for ways to reduce the number of students forced to self-quarantine because they are considered a close contact.
We are still discussing these various initiatives and how best to implement them; however, I look forward to being able to provide more information on Friday when I make my ministerial statement in the House of Assembly.
As the country moves towards life with Covid, there will continue to be necessary precautions and guidelines to remain in place to keep our schools safe and open. Although Covid19 remains a relatively mild disease for most children, we cannot claim that it does not exist or that it has no impact on their long-term health.
We will always depend on our dedicated staff and families at our schools to ensure protocols are followed. Thank you for your continued efforts as we begin to see some light at the end of the tunnel. Your sacrifices are not in vain. Our desire to keep our schools safe and open for classroom learning will always be our goal and with your continued support, we will keep our doors open.
Thank you.
comments
comments