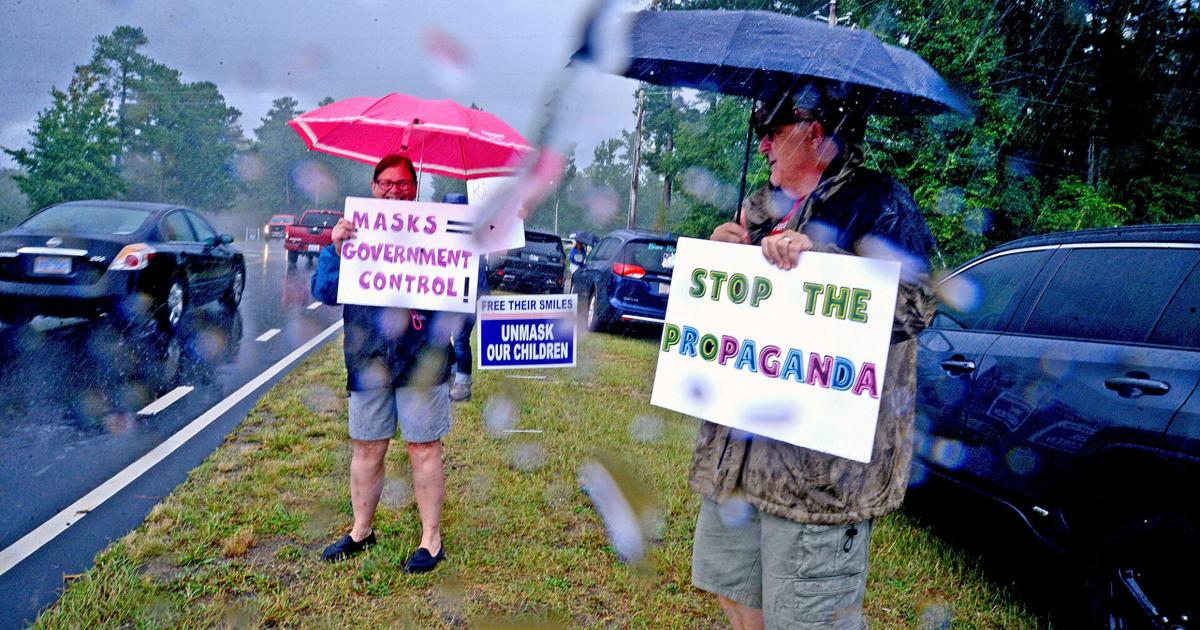 'We'll Find Your Homes': Schools Release Recording of September Threat | New
Editor's Note: The story below includes some extreme profanity. Due to the importance and nature of the story, The Pilot includes it verbatim.
Moore County Schools have released a voicemail recording that has increased security at school board meetings since mid-September.
School board and school board chairperson Libby Carter has called the message a "particular concern", "potential threat" and "credible threat" since it was first disclosed on September 10. It was at this point that Moore County Schools moved the 13th Regular Meeting School Board from West Pine Elementary School to the District Central Office.
Moore County Schools Police Chief Arthur Frye reported the voicemail, which was left on the district human resources line shortly after 5 p.m. on September 7, to the NC State Bureau of Investigation on the advice of the office of the sheriff. Frye filed an official incident report on September 21.
In the 45-second profanity-laden post, a woman threatens to target "your homes, everything" to protest against ongoing mask warrants in schools. It is not known whether the message is directed to school staff, board members, or both.
"Hi. I want to know why you think you can bully parents over a mask warrant. We're fucking coming for you," the caller said.
"Keep pushing this agenda forward and see what the hell the hell happens. Keep pushing that shit because we're gonna have your asses. We're going to find you, we're going to find your homes, everything. Play with us motherfuckers, Nazi assholes. We're coming after you and we're not gonna play nice, you shit.
Moore County Schools Police continue to investigate the origins of the call. It is not known if the SBI remains involved.
"Our investigation remains open, but we need more information," Police Chief Arthur Frye said in a statement released with the audio file. "We are now asking for the public's assistance in identifying the person who left this disturbing recording."
Anyone with relevant information is asked to contact Frye at (910) 986-9747 or Police Captain Rodney Hardy at (910) 986-0949.
Since then, all school board meetings have been held at the central office, limiting attendance to around 50 people. Moore County Schools Police screened all participants with metal detectors. The overflow at the October and November board meetings amounted to a few dozen people waiting outside to sit down.
In the statement, Moore County Schools said the move was the result of "growing concerns about safety and order at school board meetings." Moore County Schools Police prevented an individual from carrying a knife during a board meeting this summer. Officers discovered a loaded gun during a search of this person's vehicle. It is a crime in North Carolina to bring guns onto school property.
Board members David Hensley, Robert Levy and Philip Holmes have twice decided to consider larger meeting venues. But the majority of the board rejected the motion, citing the ongoing investigation into the threat.
The publication of the recording on Monday responds in part to a request for public recording filed by the pilot on September 14. In addition to the threat in its original form, the newspaper requested documents summarizing the threat that were provided to school board members.
This is a developing story. To verify thepilot.com for further updates, or the Wednesday's edition of The Pilot for a full report.